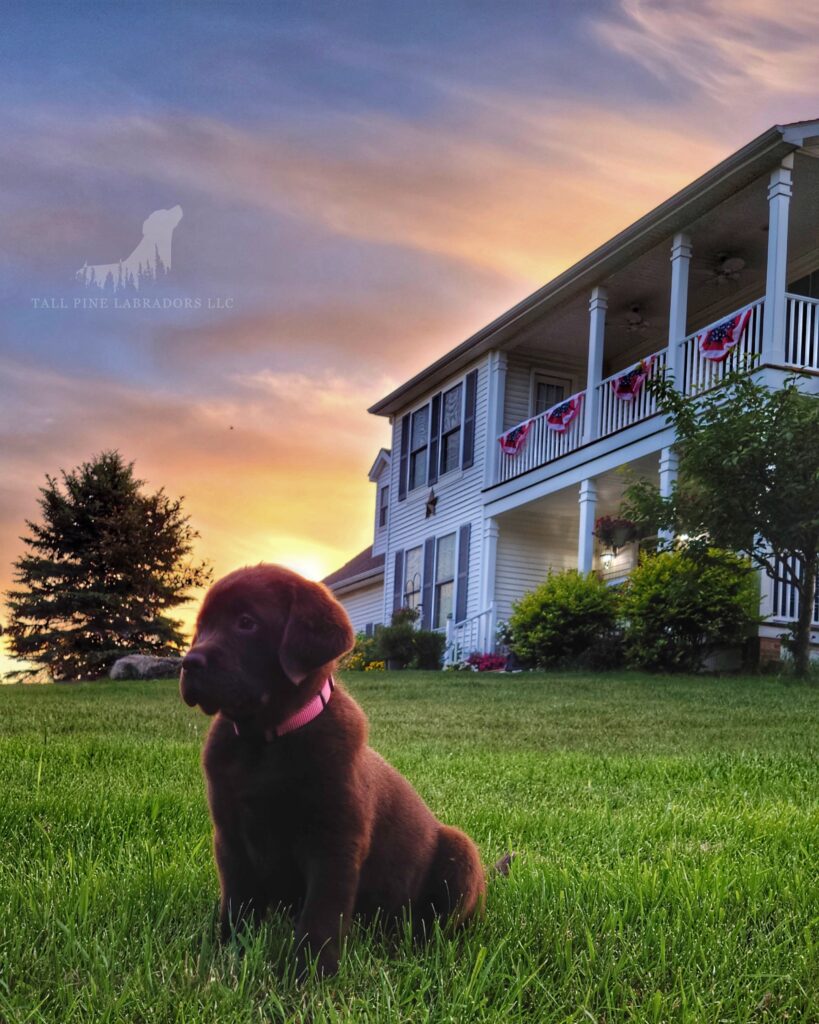 Welcome to Tall Pine Labradors LLC. TPL is located in the lovely horse country of Dryden, MI just a few miles away from I-69, as well as the booming military town of Clarksville, TN several miles south of I-24.
Tall Pine Labradors LLC is lovingly owned by Ann Morris and Revee Kraszewski. We are a mother and daughter duo whose love for Labrador Retrievers brought us to strive to improve the breed. Breeding high quality Labrador Retrievers is of great importance to us after we watched two of our beloved Labs suffer from preventable hereditary diseases as well as severe hip dysplasia.
We started our love of Labs with a chocolate male named Toby. He was arguably one of the best dogs we've ever owned. He suffered from severe hip dysplasia that started out when he was just seven months old. When he was eleven he started to suffer from Degenerative Myelopathy, and that ultimately ended his life. DM a progressive disease, meaning that dogs get slowly weaker and weaker over a four to six month period of time following diagnosis. Degenerative myelopathy usually affects the hind legs first, but muscle weakness can spread to the front legs as well. Dogs with degenerative myelopathy may begin to stumble frequently as they become progressively weaker due to nerve damage. Eventually, dogs with degenerative myelopathy will lose control of their bladder and bowels. As the disease moves into its final stages, symptoms of weakness, trembling and stumbling will begin to affect the front legs as well. Toby is one of the main reasons that we are so committed to health testing each and every dog before they are bred.
After Toby passed away we contacted a local breeder and purchased a beautiful imported chocolate lab that she told us was not up to her breeding standards. What she failed to mention was that Uno suffered from Progressive Retinal Atrophy. PRA a general term for the group of diseases causing degeneration of the retina, leading to loss of vision. The form of this disorder in Labradors is prcd (Progressive Rod-Cone Degeneration). The first presentation is the loss of night vision that progresses to complete blindness of the dog. The typical onset for this is between age 3 and 5 years of age. Uno eventually became blind in both eyes, and then she became deaf as well. She also suffered from DM from 11 years of age until her death at age 13 years. After having two dogs that suffered from easily preventable diseases we set out to find a great breeder and learn all that we could about preventing these things from happening again.
All of our breeding dogs are AKC registered Labrador Retrievers. Our dogs are selected for their conformation, temperament, athletic ability, trainability, and health. All of our dogs are health tested prior to breeding including OFA hips, elbows, and full panel testing for all genetic diseases. Our puppies come with multiple health guarantees that include hip, elbow, genetic, and eyes. They come current on all vaccinations and worming. TPL puppies begin their lives with Early Neurological Simulation from day 3-17. ENS was developed by the military order to give the dog a superior advantage. Its development utilized six exercises which were designed to stimulate the neurological system. Each workout involved handling puppies once each day. The five benefits that were observed are improved cardio vascular performance (heart rate), stronger heart beats, stronger adrenal glands, more tolerance to stress, and a greater resistance to disease. Along with ENS, TPL puppies are well socialized with different sights, sounds, experiences, and interaction with other dogs as well as children. We believe strongly in using these tools to produce the very best dogs that will excel in all areas of their lives. Several of our dogs have developed talents in more than one area, so keep an eye out for news of their successes in the dock diving arena as well as hunting.
Although Ann has a lot of practical medical experience, because she is a nurse, we are by no means veterinarians. We may share our stories, and life experiences with our clients, but ALWAYS consult your vet when it comes to the health of your animals.