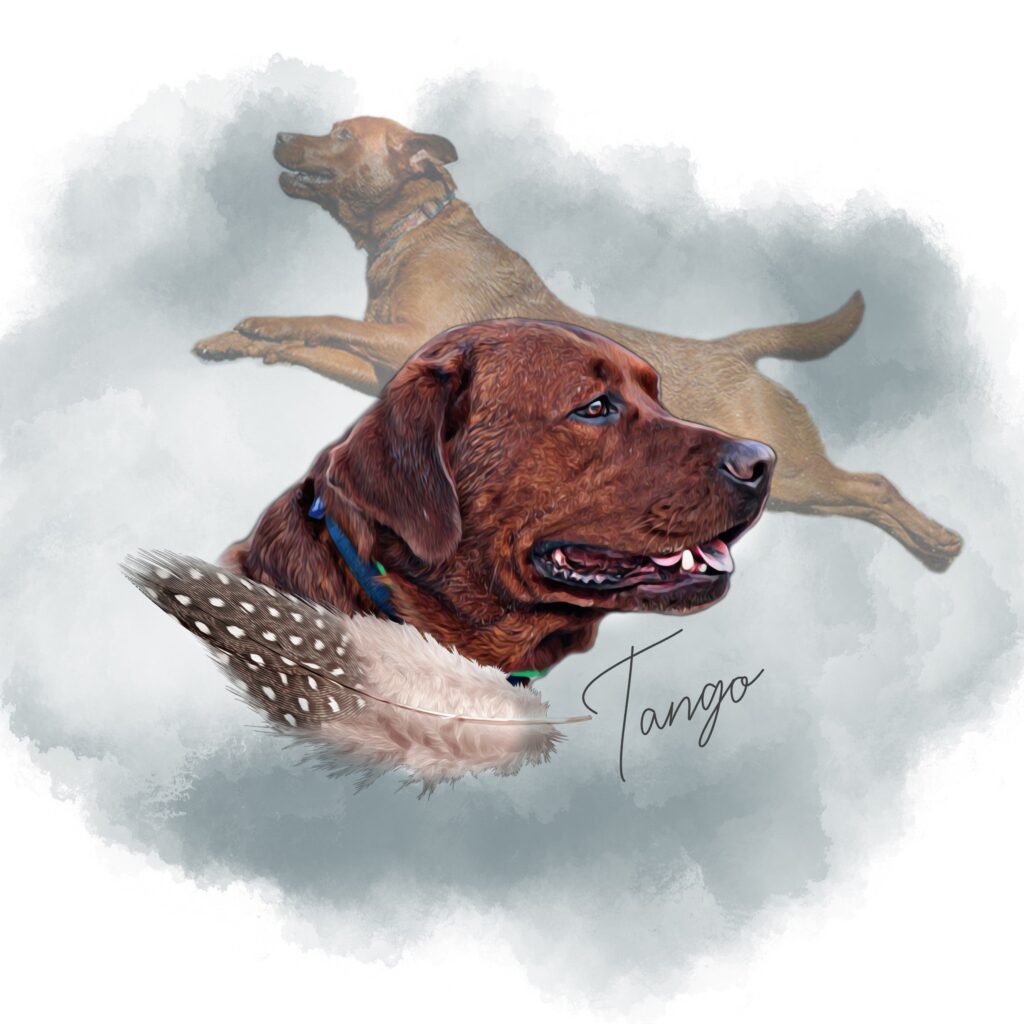 Meet Tango!
Tango has been lovingly raised and nurtured by Jeff and Marsey Nelson. We credit Jeff with making Tango into the well-rounded dog that he is today. He excels in various areas, including hunting and dock diving. Tango holds two dock diving titles, Dock Master and Dock Senior. Though not titled in hunting, he is proven in the field. Tango is the epitome of beauty, brains, drive, and athletic ability. Several of his offspring from our Kimber X Tango 2018 Litter have followed in their father's footsteps. Their son Marley is credited with saving his best friend's life. He and his Labradoodle friend Annie were out walking one day at the park when Annie went out on the ice and fell through. Marley jumped into action, broke through the ice, and pulled her to safety. Tango's daughter Oakleigh is proving herself on the dock as well.
Tango is available for stud service to health tested females. Minimum of OFA/PennHipp, DNA health panel, and a negative brucellosis test within five days of breeding. Fresh and shipped semen available.
"TPL FOXTROT TO FREEDOM! REDLEG'S TANGO!"
Male Fox Red eeBBDD
Tango was born in Pennsylvania to Jamee Rupp
Born: Dec 08, 2016
His parents are Jack & Baylee
Weight: 80 pounds
Tango lives with his forever family Jeff & Marsey Nelson, in Imlay City, MI.
Health Testing by DNA: Done by Paw Print Genetics
PRA/prcd – Clear
EIC – Clear
PRA/gr2 – Carrier
RD/OSD – Clear
DM – Clear
CNM – Clear
HNKP – Clear
SD2 – Clear
You can find Tango's DNA Health clearances here: https://www.pawprintgenetics.com/pedigrees/dogs/details/13057/
Even though Tango carries one marker for PRA/prcd none of his puppies can contract these diseases, because as responsible breeders we will never breed him to another carrier.
Health Testing hips & elbows:
OFA prelims – Good
OFA elbows – Normal